Let's end March with what has become perhaps my main collecting focus over the last 6 months or so but was always extremely high on the list:
Archer sketch cards
! Following along with some of my recent posts is another bulk purchase of Artist Proof sketches. This time, the artist is the talented
Ian Yoshio Roberts
.
I was able to add four new works of art to the PC and I don't think I've ever seen a sketch from Ian that was not a portrait or something damn close to it....so it's only fitting that these four continue that trend.
First up is Sterling Archer himself rocking those night vision goggles and his tactleneck. He wore them a few times but I'm thinking Ian was drawing from Season 1's "
The Rock
" (Episode 8) on this one.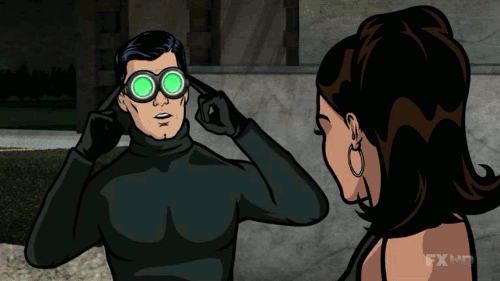 Next up is a worried Cheryl Tunt looking to the left at something or someone as she ponders her existence. Or where to find her next fix of glue. One of those two.
Third, this awesome Lana Kane which draws from "
Pipeline Fever
," the fourth episode in Season 2 where we first see how Malory recruited Miss Kane to the world of spycraft. In it, we learn Lana was rocking an afro during her environmental activism days.
The protestor behind her kind of looks like Danny Trejo: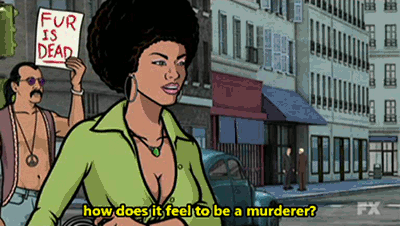 The final pickup is Pam Poovey mid-sentence, also looking a bit worried ala the aforementioned Cheryl sketch. Ian's portraits are full of color and life and jump off of the card and I could not be happier to have secured four more to go along with
the two I picked up
years ago!
The first two from IYR I got my hands on....
I only need a Krieger and Ray from Ian to have the whole main group penned by his creative hands! Maybe one day....