So my posting recently has been sporadic at best. Part of that is a switch to a Chromebook and not yet figuring out how to connect my all-in-one to it through the cloud. The bigger reason is that I got a second and much better job.
In a card shop
. That's right. 5 days a week I get to work in a literal version of what heaven should be, surrounded by amazing pieces of mostly vintage goodness as the shop specializes in vintage cardboard. I've held a 1933 Goudey Babe Ruth and 1948 Leaf Jackie Robinson RC in my hands. My first day I randomly realized we had a particular card in stock I've been after forever. Thankfully, it came home with me.
The front is so, so clean that I couldn't believe my bosses were only asking $20 for Roy Campanella's gorgeous 1952 Berk Ross card. I couldn't say YES! fast enough; having the opportunity to hold it in my hands and examine it before taking the easy and enjoyable plunge was a welcome bonus.
I'm anything but a stickler when it comes to condition as I simply care about seeing the player's face/action shot and finding the team name and/or logo (especially if there is a Brooklyn B involved in the equation) un-obscured. This baby easily meets those simple condition requirements. After my employee discount (!) this beaut was mine for $18 out the door.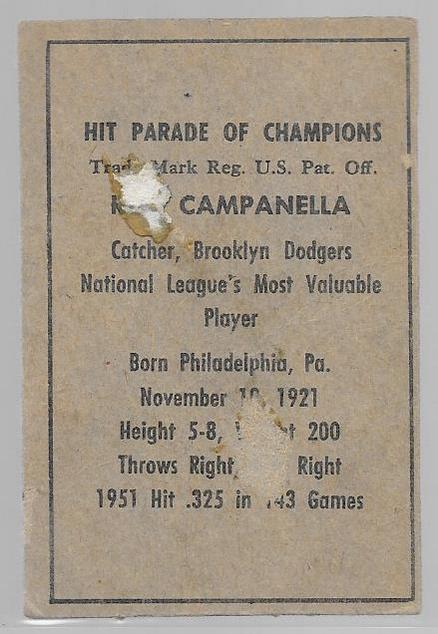 Here's the back and what put the card in the "Poor-to-Fair" category and thus dropped it right into my price range. I had seen a few of these on eBay but prices generally reached more than double what I paid. Some glue and light paper loss were not going to stop me from adding a much-needed and desired Campy to
my collection of the Brooklyn Hall of Famer
.
Place an order with the shop
if vintage is your thing. It's my job to pull all of the online orders, put them together, and get them ready to ship out. It's by far my favorite part of this fantastic job. Hell, I don't even like calling it a job. Going to work every day and having fun isn't work; it's a treat.
I intend on posting more going forward, especially once I can scan through my Chromebook. I'm still collecting. I've landed some major items from
my Want List
. I still want to hold
that Card Draft
. And I want to write a hell of a lot more going forward, even with two jobs and possibly going back to school.
I miss you all.
(Also, card shop job!)